Whereas other sectors of the California cannabis industry have been struggling, THC gummy manufacturers have been thriving (at least where they're above-board and not being hit with multi-million dollar penalties for trying to side step state cannabis laws).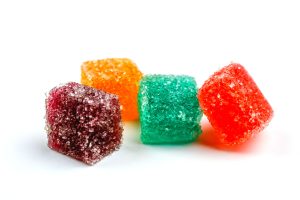 Sales of pot-infused edibles have tripled over the last four years – up to almost $1.4 billion nationally, with increases largely fueled by buyers who aren't keen on smoking or inhaling their THC fix and are looking for greater variety in options. To excel, many California gummy manufacturers are having to find a niche market: Fruity flavors, fast-acting ingredients, high potency for a decent price, etc. Consumers have their choice of a broad variety of cannabis-infused products – from cookies and chips to suckers and other candies. But gummies seem to be preferred. Fruit chews are the most popular, with caramels and taffy chews coming in No. 2.
Gummies are also very popular when it comes to minor cannabinoid products (those made not with THC, but CBD, CBN, and CBG). Edibles account for nearly one-third of all CBD products – and our Los Angeles marijuana business attorneys know that a significant portion of those are gummies.
But producers and manufactures of marijuana gummy products need to be extremely careful that they are following the letter of the law in the course of doing business. The California Department of Cannabis Control has stringent rules when it comes to process, potency, labels, and sales of cannabis products. On top of that, companies that flagrantly disregard state law may be inviting the eye of federal authorities. Although the U.S. Justice Department is no longer hyper-fixated on the marijuana industry in states where it's legal to buy/sell/possess, the tenuous peace made possible with the Cole Memo precedent only extends as a courtesy to companies that are following state standards.
Los Angeles Pot Gummy Operator Fined $128 Million
Failure to toe the line on state laws recently led to one Los Angeles County cannabis company being fined an unprecedented $128 million. Continue reading