California Leaders Pushing Back on Washington, D.C. in Battle Over Marijuana Businesses
In 2013, Deputy Attorney General James Cole issued what was known as The Cole Memo, a directive during the Obama administration that told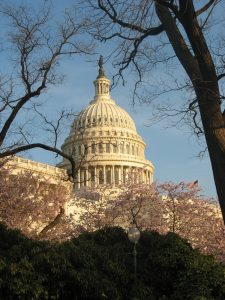 federal officials to back off of prosecuting those selling, distributing, growing, or using marijuana, so long as the offenders were following state laws. The memo was issued to reconcile the federal Controlled Substances Act, 21 U.S.C. Section 812, which classifies marijuana as a Schedule I narcotic, with the wave of state laws that allow cannabis sales and use, either medically or recreationally. The move gave hope to the growing number of Americans in favor of full cannabis legalization nationwide.
However, the U.S. recently took a big step backward when current Attorney General Jeff Sessions rescinded the directive, re-opening the door for federal prosecutors to allocate resources at their discretion for cracking down on marijuana operations.
Leaders in states that have legalized marijuana have no intention of going down without a fight, though. With many more making moves to legalize cannabis in state legislatures or on ballots this year, they might have even more allies by their side.In California, leaders are proposing methods to protect the state's thriving cannabis economy, which has only grown stronger since the Adult Use of Marijuana Act went into effect January 1, 2018. These tactics include writing letters, potential new laws, and federal lawsuits, according to a report from Orange County Register.
Rep. Lou Correa (D-Santa Ana) has called for Congress to refuse to confirm any future appointments to the Justice Department until the administration reverses its current stance on cannabis. He calls the issue a states rights issue, not partisan.
Rep. Barbara Lee (D-Oakland) said this isn't just a fight for the status quo, but a chance to move forward. She proposed a bill to permanently block funding for the DOJ and other federal agencies to be used for pursuing states where cannabis is legal. HR 4779 also builds in protections for banks that work with the marijuana industry. Banks currently face massive hurdles in legally being able to work with marijuana businesses due to the illegal status of the companies at the federal level.
Banking with cannabis businesses is also on the mind of Xavier Becerra, attorney general in California, who joined a bipartisan group also pushing for the federal government to ease up off of banks.
A dozen mayors from cities across the country, including Long Beach and San Leandro, joined together to compose a letter to vocalize displeasure in Sessions' aggressive stance against marijuana, citing the safe and highly regulated systems already in place and pointing out the will of the voters.
Other leaders have said they don't believe the federal powers have the resources or much interest in targeting operations that are abiding by state laws. While our Orange County marijuana business lawyers hope this is true, we also know that hopes are not enough to protect the people of California and their businesses. It is urgent that representatives continue to fight for the best interests of the voters of California. It is also crucial for marijuana businesses to seek counsel from knowledgeable attorneys like ours, who will guide you and your business through these uncertain times to make sure that you are up to date on the latest laws and agile to changes at the federal level.
The Los Angeles CANNABIS LAW Group represents growers, dispensaries, collectives, patients, defendants, workers and those facing criminal marijuana charges. Call us at 949-375-4734.
Additional Resources:
How California Leaders Are Fighting Back Against Sessions' Marijuana Crackdown – And What Could Get in Their Way, Jan. 17, 2018, By Brooke Staggs, Orange County Register
More Blog Entries:
Jeff Sessions Intends to Crackdown on Medical Marijuana Where It Is Legal, Dec. 10, 2017, Cannabis Law Group