California Marijuana Lawyers Watch Local Elections for New Regulations
The statewide legalization of marijuana for adult recreational use as of January 1st thanks to Prop. 64 wasn't the end of California's cannabis conversation. Far from it. Long-time California marijuana lawyers, businesses and policymakers are paying close attention to this November election, particularly in several local conservative strongholds set to decide whether to commercial cannabis should be given the green light to set up shop in their communities. Because while the Control, regulate and Tax Adult Use of Marijuana Act of 2016 gave the statewide blessing, it didn't automatically open the floodgates. Local counties, cities and towns were given the option whether to allow the cannabis industry to operate inside their own borders.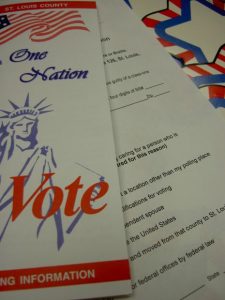 Many leaders saw the passage of Prop. 64 as a major hurdle clearance to legitimizing a promising, lucrative market. While most have let go of the long-debunked reefer madness hysteria of the past, the stigma still remains for some. As marijuana lawyers, we can't wholly discount all of their concerns, though most have been met with reasonable regulatory response (though some argue certain restrictions go too far). One of the biggest compromises was to allow local control. California marijuana business lawyers and economic experts mostly concur that communities outright refusing cannabis industry access are likely to be at an economic disadvantage, though the extent isn't yet clear.
Some examples of the dozens of cities set to weigh the future of local cannabis commerce via ballot measures Nov. 6 are rural areas like El Dorado County east of Sacramento and Hemet, a town in the Inland Empire less than an hour south of Riverside. Most areas where the issue is up for vote are expected to pass it by a wide margin, according to The Mercury News in San Jose, but in the more right-leaning regions, predictions are a toss-up. 
One thing marijuana industry insiders find encouraging is that leaders on both sides of the aisle – Democrats who haven't previously made this a priority and Republicans who weren't especially keen on it before – are starting to talk about cautiously-increased support. That's a reflection of the fact that public support for marijuana legalization has never been higher, and continues to climb. In fact, it's fair to say that in more than a few of these narrower races, support for marijuana businesses may be greater than candidates of either party running. It's poised to be a potentially deciding factor in some cases, if predictions of higher-than-usual voter turnout proves true.
Here in Southern California, where our Los Angeles marijuana business lawyers have long represented clients throughout this region, this shift seems to foreshadow the near inevitability of federal legalization. Increasingly, the question isn't whether we're going to legalize cannabis but how we're going to do it and when. It's plausible some communities might remain gun-shy until U.S. law is fully aligned. There are a number of national bills that would reform cannabis business tax laws, allow cannabis businesses to bank at federally-backed financial institutions, broaden research and legalize hemp.
In total, there are 470 Congressional seats up for grabs (including several key House of Representative seats in Southern California), and how this all plays out could depend heavily on the outcome of those races. Although it's considered unlikely, if Democrats did manage to flip both Congressional bodies, federal marijuana legalization could go the way of Canada within the next two years. Change could be slower going if Republicans retain control of the U.S. Senate (which is probable), but even then, a number of prominent, Trump-supporting Republicans are also fervent backers of marijuana reform. One need look no further than Orange County's incumbent GOP Rep. Dana Rohrabacher, up against Democrat Harley Rouda. Rohrbacher has touted the benefits he derives personally from medical marijuana, and has disclosed the president's own personal assurances that medicinal marijuana is likely to be federally legal within the next two years.
Also this election, the number of states allowing marijuana for recreation is expected to cross the double-digit threshold – including in firmly red states like North Dakota and Michigan. Both already allow medical marijuana, and may become the 10th and 11th to allow recreational sales and possession too.
Marijuana business start-ups and established cannabis companies looking to expand in this communities –  should these measures pass – need to be be discussing legal strategy now with a dedicated California marijuana business law firm.
The Los Angeles CANNABIS LAW Group is a marijuana law firm representing growers, dispensaries, collectives, patients and those facing marijuana charges in Southern California. Call us at 949-375-4734.
Additional Resources:
California marijuana policies at play on Election Day, even in Republican strongholds, Oct. 19, 2018, By Brooke Staggs, The Mercury News
More Blog Entries:
California Marijuana Banking Attorneys: Navigating the Risks, Oct. 15, 2018, Los Angeles Marijuana Business Lawyers Blog