CBD business operators currently have a sizeable economic advantage when it comes to their high-THC cannabis/extract counterparts. Thanks to the 2018 Farm Bill, their operations are legal, (in many jurisdictions) lightly taxed, and available through online sales.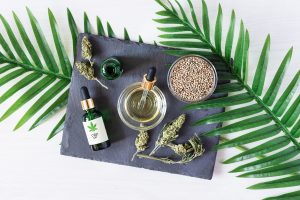 But what will it mean for the CBD side of things when/if marijuana products of all (or at least higher) THC levels becomes legal? Specifically, we're talking about legalization of recreational marijuana. Here in California, as well as in 17 other states, Washington, D.C. and Guam, that's already the reality. Yet CBD businesses continue not only to operate, but to thrive.
Our CBD business lawyers recognize the retail landscape may inevitably shift once recreational marijuana becomes legal, but we also believe in the strong likelihood the two can co-exist. Not everyone wants high-THC products – specifically in the realm of pet products, beauty topicals,  and cosmetics. Plus, there are a fair number of people who aren't heavy users of THC, but may still want to indulge occasionally in a way that is safe.
Recent analysis reveal that the legal recreational marijuana market dwarfs the CBD market – $50 billion to $8 billion. Still, neither sector's size is anything to sneeze at.
In shops that sell high-THC cannabis products, CBD product sales have fallen in recent years (at least so far as California goes). But it's our theory that when adult use recreational marijuana becomes legal, there will be an increase in sales for both – particularly in mature markets. Continue reading