Driver Allegedly High on Medical Marijuana Caused Crash Resulting in Trooper's Death
According to a recent news story from Daily Mail, a 30-year-old medical marijuana patient in Massachusetts has been charged in connection with a motor vehicle accident that resulted in the death of a state trooper.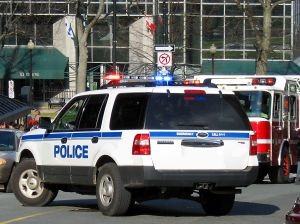 Authorities say defendant driver was high on medical marijuana at the time of the deadly crash.  During the crash, defendant allegedly crashed into a parked state police cruiser that was occupied by the Massachusetts State Police (MSP) trooper. 
It is alleged that prior to the accident, the defendant went to a local medical marijuana dispensary and purchased several marijuana cigarettes and had them in his car at the time of the deadly crash.  Authorities have also said there was a partially smoked joint in the car following the accident.
Witnesses say that defendant was driving his car when he allegedly swerved his vehicle across multiple lanes of traffic and crashed into the trooper's SUV, which was parked in the shoulder alongside the road.   When first responders arrived at the scene, they attempted to provide immediate medical attention to the trooper, but he was soon pronounced dead.  The defendant was also injured in accident.  When he was in court for his arraignment, he had medical braces on each of his arms and was also in handcuffs.  The trooper was 44 years old at the time of his tragic death and was a former United States Marine.  He had a funeral that was attended by many state troopers as well marines.
Prosecutors are alleging that defendant refused to take a breath alcohol test, but they did take a blood sample.  It is alleged that he had evidence of marijuana his blood stream.  However, as our Orange County marijuana DUI defense attorneys can explain, there are various issues with testing for marijuana in a person's blood.  The first issue is that even if you can detect that a person used marijuana at some point in the past several weeks, there is not an approved way to determine if a person was under the influence of marijuana at the time he or she was driving.
The reason for this is because THC, which is the active chemical in marijuana that makes a person high, is metabolized in such a way that it will not end up in a person's urine, and only stays in a person's blood, if detectable at all for a very short amount of time. While it might be possible to determine if a person had recently smoked marijuana through blood, there it is even more difficult to determine if a person have enough marijuana or THC in his or her system to cause intoxication.  For example, with alcohol, there is a per se level of intoxication of 0.08 grams of ethanol (drinking alcohol) per 100 milliliters of blood.  This the legal limit across the country, including California.  However, there is no legal limit of marijuana, and just because a person has used medical marijuana, does not mean that they are impaired to the point where it would be dangerous to drive.
It should be noted that in this case, the defendant has been charged with operating a motor vehicle under the influence of marijuana in what became a deadly accident, but these are merely allegations, and he is presumed innocent.
The Los Angeles CANNABIS LAW Group represents growers, dispensaries, collectives, patients and those facing marijuana charges. Call us at 949-375-4734.
Additional Resources:
Driver who crashed and killed a state trooper was high on medical marijuana, May 19, 2016, Daily Mail, By Jessica Chia
More Blog Entries:
Rescheduling Marijuana Could Help Researchers, April 22, 2016, Los Angeles Marijuana Lawyer Blog