FDA: CBDon't: New Warning of U.S. Food, Drug and Cosmetics Act Violations
The legal status of cannabidiol, better known as CBD, the popular extract of the cannabis plant, remains something of a mystery – even after the changes brought about by the 2018 Farm Bill that made low-THC hemp and its derivatives legal.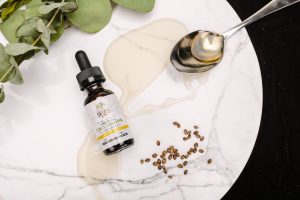 The U.S. Food and Drug Administration had already assumed the position that the substance could not lawfully be sold in food. Now, the agency has released a sharply-worded warning to the public about the possible dangers of CBD and issued notices to more than a dozen large companies that sell it, citing alleged violations of the U.S. Food, Drug and Cosmetics Act. Five of those companies are in California and one is in Los Angeles. Similar warning letters had been sent to other companies.
They are accused of unlawfully selling CBD products interstate for purposes claiming to prevent, treat, diagnose, mitigate or cure disease of a serious nature, like cancer. Some were a double violation because they were included in food products and/or advertised as being dietary supplements. The FDA press release on the warning letters noted that regulators haven't approved any CBD products, save for those issued by prescription to treat certain rare forms of pediatric epilepsy. Even then, the agency notes that CBD might cause liver injury, but have determined the benefits of treatment outweigh the potential health concerns.
The agency cited lack of information on the health effects – adverse or otherwise. The products being sold, the FDA explained, most likely differ substantially from the single FDA-approved medication. The lack of scientific information, officials said, means the agency cannot say the substance will be effective in treating what sellers claim it does, and worse, it might be dangerous. CBD is not classified as "generally recognized as safe" for human or animal use.
Some outstanding questions yet to be answered, the FDA indicates, include:
What are the effects of daily CBD use for sustained periods?
What effect does CBD have on the developing brains of children and teens?
Is there an adverse impact to pregnant women or nursing mothers?
What kind of interactions does CBD have with other herbs or substances?
It's not that these are bad questions, but the frustrating aspect for our Los Angeles CBD lawyers is the fact that they'd likely have long ago been answered if it wasn't for more than eight decades of nonsensical prohibition.
In a revised Consumer Update, the agency has outlined a number of potential safety concerns related to CBD use. In addition to possible liver damage, the agency has concerns regarding:
Drowsiness
Diarrhea
Mood swings
Decreased testosterone levels/development and function of testes and sperm
FDA Promises Its Continued Exploration of Legal CBD Sales
The warning doesn't completely close the door on CBD sales. The FDA insists it is continuing to explore ways that CBD might be safely produced and legally marketed. Officials are meeting with stakeholders, health officials and researchers to glean more knowledge about the science, safety and quality of these products.
The agency said an update on its progress should be issued in the coming weeks.
The Los Angeles CANNABIS LAW Group represents growers, dispensaries, ancillary companies, patients, doctors and those facing marijuana charges. Call us at 949-375-4734.
Additional Resources:
FDA warns 15 companies for illegally selling various products containing cannabidiol as agency details safety concerns, Nov. 25, 2019, FDA