GOP Worried about Losing Seats over Medical Marijuana
Republican politicians in Utah are worried they may lose some seats this November due to medical marijuana being on the ballot, according to a recent news feature from Fox 13. The concern is that in the various states that have passed medical marijuana by popular vote, many liberals and other young voters who would not normally make it to vote came out in record numbers to support the passage of medical marijuana.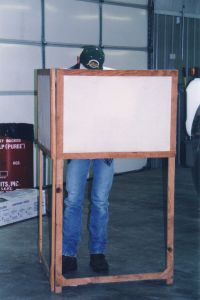 If these younger and more liberal voters come out to vote, there is believed to be a high likelihood that many of them will vote straight-ticket Democrat. This is especially true of voters who do not know much about the particular candidates.

In the upcoming election, there will be an even larger turnout due to the presidential candidates, so if more liberals show up, as many predict, there is a good chance many districts that were once heavily GOP leaning, will have Democratic candidates elected for the first time in many years.
Those who support medical marijuana are happy with this and are proud that many Americans who never normally vote will be out in full force due to support the passage of a medical marijuana ballot imitative.
The state governor, however, has said that he doesn't think the medical marijuana initiative being on the ballot will have much of an effect on the political makeup of the people of this state, and it shouldn't be cause for alarm. Many believe that it will, in fact, have a major impact on the GOP candidates, and he is just saying the party line, which he is expected to do in situations such as these.
There are currently two medical marijuana bills on the ballot. One deals with only the sale of medical marijuana extract, and the other is concerned with cultivation and transfer of an entire plant. There are essentially two ways that a law is passing in most states. One way would be for the legislature to draft a bill and get it passed in both chambers of the state legislature. California uses a bicameral structure with a state assembly and a state senate.
However, this has proven very difficult on both the federal and local governments, because many politicians are fearful that they will look bad in front of their constituents if they vote in favor of legalization of marijuana. This is interesting, because most Americans now support legalization of medical marijuana, yet their elected officials fear it will anger their respective support bases.
It should be noted that our Los Angeles medical marijuana attorneys have found people of all backgrounds and political party affiliations are interested in legalization across the United States and locally, because there is a lot of money to be made in the medical cannabis industry. There is also no question that medical marijuana is very helpful to patients suffering from all kinds of conditions, and there is no reason they should be denied access to this much needed medication.
In this case, the first vote, on an amended version of the bill, was six to zero. They took 25 minutes to hear arguments of the parties and decided that marijuana has no medical uses. As we know well, this statement could not be farther from the truth.
The Los Angeles CANNABIS LAW Group represents growers, dispensaries, collectives, patients and those facing marijuana charges. Call us at 949-375-4734.
Additional Resources:
Medical marijuana on the ballot could change political power in Utah, February 15, 2016, By Ben Wilson, Fox 13 Now
More Blogs:
Medical Marijuana Laws in CA More Liberal than in NY, Jan. 27, 2016, Los Angeles Marijuana Lawyer Blog