Legislation Would Halt Federal Conflict With State Pot Programs
Two proposed laws have been formally introduced by U.S. House of Representatives members aiming to end the fruitless battles between state marijuana programs and federal drug laws.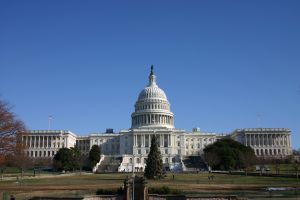 Our Los Angeles Marijuana Lawyers want to encourage all of our clients, followers, colleagues and friends to contact your Congressional representative and urge support of both HR 689 and HR 710. Both of these programs could go a long way toward reducing the innocent casualties of this failed "War on Drugs" in states where voters have approved the legality of medical marijuana.
What we don't need is federal prosecutors continuing to usurp the role of leadership best left to our elected officials or silencing the citizens' voices when their intent has been made very clear.
HR 689, the States' Medical Marijuana Patient Protections Act, was introduced by Rep. Earl Blumenauer (D-Ore) and would essentially remove marijuana from the list of Schedule I drugs as outlined in the Controlled Substances Act. This same move was attempted through appeal in a federal court in Washington, D.C., but the court unfortunately upheld the government's current stance. This classification continues to defy logic, as its definition hold that it has no currently accepted medical use in the U.S, it has a lack of safe use under medical supervision and has a high potential for abuse. Other drugs in this category include heroin, LSD and Ecstasy. According to this classification, marijuana is more addictive than prescription painkillers, cocaine or amphetamines. We all know this to be simply untrue – and yet, the classification persists. The law would also bar marijuana from Schedule II classification as well, stipulating that an independent panel should determine whether it should be classified as a Schedule III through Schedule V.
So not only would HR 689 do away with that classification, it would allow for medical research to be overseen by some agency other than the National Institute of Drug Abuse, which maintains an obvious bias on these matters. Part of the problem in the D.C. court case was that the justices said there wasn't enough valid research to support a finding that marijuana was beneficial for medicinal purposes. But that is no surprise when the NIDA is severely limiting the kinds of studies that can be conducted with the drug.
HR 689 would also place limits on governmental authority with regard to the Controlled Substances Act, finding that no provision of the law should allow prosecutors to restrict the cultivation, prescription, sale or use of marijuana in states where it has been approved.
The second measure Congress is set to weigh in on is HR 710, also known as the Truth in Trials Act. This law would allow patients, dispensaries or anyone who is facing a federal, marijuana-related offense to introduce evidence that would prove that their conduct or actions were in compliance with state law.
It would also make provisions to ensure that any property seized from a marijuana defendant who is later found not guilty will be promptly returned to that defendant – no later than 10 days after the case has closed.
Although opponents of these measures have characterized them as radical, the fact is, they are simply common sense.

The Los Angeles CANNABIS LAW Group represents growers, dispensaries, collectives, patients and those facing marijuana charges. Call us at 949-375-4734.
Additional Resources:
HR 689, States' Medical Marijuana Patient Protections Act
HR 710, Truth in Trials Act
More Blog Entries:
Federal Hemp Bill Reintroduced as States Mull Marijuana Legalization, Feb. 17, 2013, Los Angeles Marijuana Lawyer Blog