Los Angeles Cannabis B2B Companies Must Establish Clear Pay Default Policies
Licensed cannabis B2B operations in California are faced with some pretty substantial challenges when it comes to getting off the ground. A rampant black market, heavy taxes, and tight regulations – all of these drain time, money, and professional resources, and make it tough to turn a profit in this industry. Many can also add to that list: Deadbeat customers.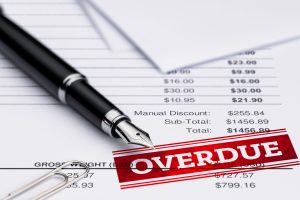 As Los Angeles cannabis company lawyers, we know this has grown to become a significant problem for our clients. Put simply: Customers aren't paying their bills. In response, more than half the state's wholesale B2B cannabis market has invested in help from a Los Angeles non-profit credit association tasked with rating retailers and flagging repeat offenders – with the ultimate goal of halting the growth of hundreds of thousands of dollars in unpaid invoices. The operation, Credit Management Association, is reviewing accounts receivable and documentation from dozens of brand and distributors. Ultimately, it will release a "do not sell list" of two dozen+ cannabis retailers and delivery companies flagged for:
Failure to pay their bills in a timely manner (90+ days late on invoices).
Owing at least $25,000 for products.
As longtime Los Angeles marijuana lawyers, we recognize that the majority of cannabis retail and delivery companies don't set out with the intention of becoming bad actors. They are subject to many of the same brutal market forces as suppliers. They fall a bit behind, and then it's an uphill battle to fight their way out of debt.
Still, it's a significant issue because pretty much every manufacturer, distributor, and brand has a non-inconsequential amount of unpaid invoices. That's not a new problem, but it's one that's been exacerbated in the last year thanks to plummeting stocks and dwindling capital. Companies are having to take a hard line with some of their biggest clients – because they simply aren't paying up.
Companies say they've been left with increasingly few choices, particularly because they aren't backed by investors. If they utilize a debt resolution service, they're going to take a 20 percent hair cut right off the top – even if they are paid. Most of these claims exceed the small claims avenue because the debts are primarily in excess of $5,000.
Some cannabis firms are making it regular practice to run credit reports on the companies with which they intend to do business. That probably seems obvious, as it's standard practice in mature industries like government, lending, and banking. But it's new for the marijuana market.
Lawmakers are starting to be wade into the foray as well. Assembly Bill 766, for instance, would require:
Cannabis business licensees receiving goods or services of at $5,000 or more to pay their invoices no later than 15 days beyond the due date. Failure to pay would trigger a state regulatory warning notice and potential state disciplinary action.
Licensees with outstanding invoices in excess of $5,000 to refrain from using credit to purchase any new goods or services from other operators until the outstanding invoices are paid off.
Invoice due dates to be set at no later than 30 days from the time the goods or services are sold.
Our Los Angeles cannabis business lawyers will be carefully monitoring the progression of this bill. But in the meantime, marijuana businesses extending credit to other companies might consider protecting themselves by taking some of the following steps:
Have a credit manager either on staff or via contract to help oversee the process by which you're granting credit. This will help ensure consistent application of your credit policy, as well as management of accounts, collections on accounts receivable, and oversight of the dispute resolution process. A person in this role could also help review the credit status of current customers.
Develop a credit application and approval process. If you extend credit to all your B2B customers, chances are at some point, you're going to get burned – possibly big time – especially if you don't properly vet these operations. Even if your customers are on a COD arrangement, they should still have a credit application on file. Such documentation won't necessarily guarantee you'll get paid, but it can be a key document if you ever do need to pursue collections.
Have a collection strategy already in place. The ideal time to develop a collections action plan is before your customers are in default on their payments. In general, if a B2B cannabis retailer is more than 30 days late on their payment, they should be considered delinquent on that payment. That should trigger an escalating action plan – starting with maybe an email, then five days later a phone call, five days later a phone call and an email, 5 days after that another phone call and another email, a week after that, another email. Once the customer crosses the 60- or 90-day mark without paying, they're seriously delinquent – and you should have a plan in place for how you're going to initiate collections on the debt they owe. That may include issuing a final demand letter. If there's still no response, the bill should go to a collections agency.
Let go of nonpaying customers. Relatively speaking, the cannabis industry has a very low recovery rate once an overdue invoice goes to collections. Many find that by the time their firm is ready to take serious action, the customer in question has already closed up shop (or is uncooperative). In that case, you can sue, but that might not even be worth your time and money. (It depends on the situation.) But it's better if you can minimize the problem before it becomes serious by letting go of non-paying customers earlier in the process. Don't continue to sell products and services to companies that aren't current on their bills. You can avoid this by having a clear plan in place to put a hold on any account that's more than a month overdue on invoices.
Making sure you have strong processes and good people in place to manage your credit system and invoicing can make a big difference in the success of your cannabis company.
The Los Angeles CANNABIS LAW Group represents growers, dispensaries, ancillary companies, patients, doctors and those facing marijuana charges. Call us at 714-937-2050.
Additional Resources: