Man Arrested with Gun and Marijuana in the Los Angeles Area
According to a recent news report from NBC Los Angeles, authorities have just arrested a suspect for possession of 26 firearms and a small medical marijuana grow operation. The man also allegedly was in possession of large amounts of ammunition for all the guns also allegedly in his possession. The defendant was 33 years old at the time of his arrest.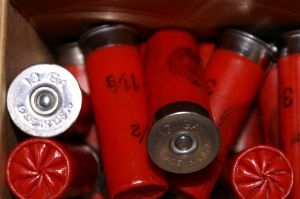 The affidavit in support of the warrant states that officers had probable to cause to believe defendant had illegal narcotics on the premises. The warrant also asserted that defendant was a member of a criminal street gang and had multiple felony convictions on his record.
Authorities say, when they entered the property, they immediately saw three firearms that were in a location allegedly accessible to the young children who were in the residence. They found more than two dozen other firearms and the ammunition during their search and also discovered what they are describing as a small indoor grow operation and around one pound of marijuana, which was seized during the execution of the warrant.

The suspect was arrested and charged with numerous criminal charges, including being a felon in possession of a firearm, possession of marijuana with intent to distribute, unlawful possession of firearm, and child endangerment. There will also be a sentencing enhancement for his alleged membership in criminal street gang. The suspect was able to post his $50,000 bond and has been released from custody. Neighbors who were interviewed by reporters as part of the coverage said they were shocked he would have any guns or drugs, and another neighbor who lives next door said he was not even aware the police were there executing a warrant. It is important to note that suspect has not been convicted of any crime in connection with this incident and is presumed innocent unless and until he is convicted by a judge or jury beyond a reasonable doubt.
As our marijuana charges criminal defense attorneys can explain, having illegal marijuana deemed to be possession with intent to distribute, along with possession of a firearm, is a particularly bad combination. While it may seem that marijuana would not make much of a difference, under federal sentencing guidelines, cases involving both guns and drugs are subject to specific enhancements that can send convicted defendants to federal prisons for decades without any possibility for parole.
If you or a loved one is suspected of being in unlawful possession of any quantity of marijuana in the greater Los Angeles area, the best thing you can do is speak with an attorney who regularly represents and defends people in that situation. These cases can involve complex issues that are different from standard criminal defense cases, and this experience can greatly improve your chance of a successful outcome to your legal matter to the extent the facts will permit. However, as every case is different, you should personally speak with an attorney about your actual situation. It should also be noted that it is best not speak with anyone else about your pending criminal cases or potential case, as any conversation with persons other than a lawyer may not be protected, and the person with whom you were speaking can be compelled to testify.
The Los Angeles CANNABIS LAW Group represents growers, dispensaries, collectives, patients and those facing marijuana charges. Call us at 949-375-4734.
Additional Resources:
Man Arrested After 26 Firearms, Marijuana Grow Found in Home With Children, October 5, 2015, NBC Los Angeles, by Patrick Healy
More Blog Entries:
Cannabis Less Dangerous Than Heroin, New DEA Chief Concedes, Aug. 2, 2015, Los Angeles Marijuana Lawyer Blog