Tainted Marijuana Health Alert Issued by Oregon Officials
A series of cannabis-related health alerts was issued in Oregon recently, after health officials cited concerns over high levels of pesticide residue on some batches.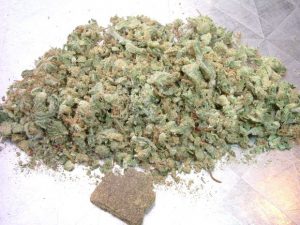 According to The Oregonian, the first alert in mid-October concerned two strains sold by a Portland-area dispensary called New Leave that had high levels of an insecticide called spinosad. The marijuana was sold to some 130 consumers over two days. The strains were dubbed, "Dr. Jack" and "Marion Berry." The Oregon Health Authority reported the spinosad levels in the former batch were 42 parts per million while the latter had 22 parts per million. The maximum allowable by health regulations is 0.2 parts per million.
The second alert came earlier this month when it was determined that three strains of marijuana flowers sold from dispensaries in North Bend, Eugene and Salem also had unsafe levels of spinosad. One of those batches, "Dutch Treat," sold in Eugene to about 30 people, had 0.9 parts per million of the chemical. Meanwhile, two other strains – Dryzle and Pleeze – were sold to approximately 340 people at two dispensaries between mid-to-late October. Those strains had high levels of a chemical called piperonyl butoxide, which in itself is not a pesticide, but is a powerful and potentially dangerous ingredient that is only allowed to have 2 parts per million. In the Pleeze and Dryzl strains, there were between 15.39 and 16.24 parts per million, based on independent lab tests. 
The state hasn't released information regarding the identities of the growers, and it's also not clear how these strains made it to store shelves after they reportedly flunked the lab testes. Health department officials are trying to piece together what happened. Producers are supposed to destroy products that fail to meet those stringent standards. Of course, cultivators would do so at a loss – and perhaps a substantial one – but it's not clear if the product was cleared for distribution intentionally or if it was some kind of oversight. In either case, our L.A. and Oregon marijuana lawyers know this is something that requires closer examination.
Cultivators and distributors who follow the strict regulatory guidelines do so at a cost, but it ensures the safety and well-being of customers and the public. Businesses that may not follow the rules in turn have an unfair competitive advantage – at the expense of public safety. We're hoping, though, that this was merely a procedural error that can be quickly identified and corrected.
It's worth noting, however, that California may have a fair way to go in these regard. A company called Steep Hill labs, based in California, conducted research that concluded nearly 85 percent of marijuana products tested positive for residual pesticides. What's more: These plants would have failed Oregon's regulations. As the CEO of the lab stated, smoking a joint that is contaminated with pesticides could be potentially lethal. This is something that deserves our immediate attention and resources.
It was only in October that Oregon began regulation and monitoring of "accepted" levels of pesticide residue that is allowed to be on marijuana sold to the public. In investigation last year by The Oregonian revealed that relaxed state rules and minimal oversight resulted in laboratory practices that weren't consistent, which meant test results were all over the map – and marijuana with pesticides was routinely on the shelves.
Today, the state health authority requires that any labs conducting marijuana testing must be state authorized.
The Los Angeles CANNABIS LAW Group represents growers, dispensaries, collectives, patients and those facing marijuana charges. Call us at 949-375-4734.
Additional Resources:
Oregon issues health alert for three marijuana strains with pesticide residue, Nov. 3, 2016, By Molly Harbarger, The Oregonian
More Blog Entries: