Teen Marijuana Use is Troubling, Experts Say
As a growing number of states follow California's leap and legalize marijuana, new research shows cannabis use among U.S. teens is more widespread now than it was just a generation ago.
A study published in the June 20 issue of American Journal of Public Health, looked at U.S. federal health data for more than 200,000 high school students between 1991-2017. The results show marijuana use among teens within that time frame, has increased tenfold.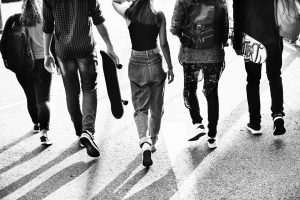 Study author, Hongying Dai, of University of Nebraska's College of Public Health in Omaha, noted the "surge" in teens using marijuana is troubling, and "highlights the importance of marijuana prevention among youths."
To date, a plethora of studies have investigated the long-term effects of marijuana use in teens. Concern often centers around effects of the drug on the prefrontal cortex areas of the brain, which control judgment and decision-making, and continue to develop well into a person's early 20's. Marijuana use in such studies, has also been linked to an increased incidence of mental health disorders, including depression, psychosis and other long-term psychiatric effects.

Common Side Effects of Cannabis Use in Teens
The Center for Disease Control and Prevention (CDC), for example, warns of the following common side effects found among teens using marijuana:
Disjointed thinking and difficulty problem solving;
Decreased memory function and challenges learning;
Impaired co-ordination;
Difficulty maintaining attention;
Decline in academic performance and higher drop-out rates;
Increased risk of mental health issues (depression, anxiety and psychosis);
Impaired driving ability and increased danger on the road (decreased co-ordination, reaction time and concentration); and
Potential for addiction.
Despite the associated health risks, as opinions towards and regulation surrounding marijuana use are relaxed, teens nationwide are increasingly using the drug.
Interestingly, in her analysis of the data, Dai also noted "the percentage of high school seniors perceiving regular marijuana use as harmful, fell from 78.6 percent in 1991 to 29 percent in 2017."
National Incidence Data on Teens and Marijuana
Other key findings from Dai's study of the U.S. federal health data show:
Teens admitting to using marijuana within the last 30 days has increased from 0.6 percent in 1991 to 6.3 percent in 2017
More than double the number of young people are using both marijuana and alcohol (7.6 percent in 2017 vs. 3.6 percent in 1991)
Between 1991-2017, marijuana usage rates increased more significantly among teens within minority populations

Use among black teens is up from 2 percent to 13.5 percent
Use among Hispanic teens rose from less than 1 percent to 9 percent
Use among white teens increased least from 0.3 percent to 3.7 percent
Changes in public opinion toward marijuana, as well as the relaxing of restrictions surrounding marijuana use, have likely contributed to the uptick in teenagers using the drug, said Dai. It appears there is more work yet to do, in educating teens on the dangers they face if using marijuana before reaching adulthood.
Marijuana Use by California Teens
For a snapshot of marijuana use specifically among Californian teens, a separate study by the Californian Department of Health Care Services and the California Department of Education showed differing results. In its independent California Healthy Kids Survey, the 2015-17 study surveyed 45,264 students, comprised of randomly selected seventh, ninth and eleventh graders. Key takeaways included:
A 47 percent decrease in cannabis use among seventh graders from 2013 to 2017;
Pot use among ninth graders dropped 25 percent within the study period;
Eleventh grade cannabis use dipped 16 percent during the same time frame; and
Teens reportedly using cannabis multiple times within the last 30 days, fell across all grade levels.
These findings were gathered within the sixteenth biennial, statewide, nonpartisan Californian student survey, which was funded by state taxes.
The obvious question then, is in a state that has regulated and legalized the use of marijuana among adults since 2016, why are Californian teens apparently using pot less than their counterparts across the country? One reason may be that deregulation removes the lure of rebelling with marijuana use during adolescence. Another points to California's continued advertising budget allocation, to educate its young people on the side effects associated with cannabis use, and to discourage pot use among its youth.
It will be interesting to observe whether the 2017-19 CHKS survey results show a continued trend of declining pot use among teens across California, or if an uptick matches the national data analyzed by Dai. Keep an eye out for those 2017-19 CHKS survey results, which are expected to be released sometime next year.
Need Legal Help For Cannabis Possession?
Our Southern California marijuana defense lawyers can help answer any questions you may have.
The Los Angeles CANNABIS LAW Group represents growers dispensaries, ancillary companies, patients and those facing criminal marijuana charges. Call us at 949-375-4734.
Additional Resources:
The Center for Disease Prevention and Control-Marijuana Fact Sheet
California Healthy Kids Survey 2015-2017