Could Veterinarians Recommend Pot for Pets?
We all know the importance of keeping Sparky away from the pot brownies. But is it possible your pet could receive medical marijuana as a recommended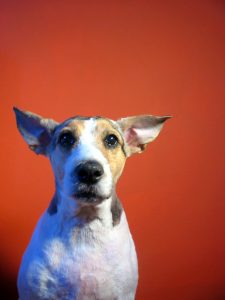 treatment from their vet?
A vast majority of rational Americans agree that the use of marijuana as a treatment for medical purposes is a decision that should be made between and doctor and patient. Recent polls show more than 90 percent of respondents favor medical marijuana with a doctor's recommendation. And California has long been a defender of patient rights by leading the nation in medical marijuana legalization with the Compassionate Use Act of 1996.
So why should the decision be any different when it comes to animals and veterinary professionals?
As it stands, California law does not extend to veterinarians the ability to recommend marijuana as a treatment for animals. But AB-2215, introduced by Assemblymember Ash Kalra (D-27), is looking to change that. The bill would put the power in the hands of the Veterinary Medical Board by calling on them to set the standards for state-licensed veterinarians to discuss marijuana treatment for animal patient clients, and it would also prevent veterinarians from being punished for having such discussions.
That all sounds great, but the bill is receiving criticism from the Veterinary Medical Board for not being broad enough, according to American Veterinarian. The board recently voted 4-2 not to support the bill, citing a primary concern over the word "discuss." Board members felt this language was too soft, and still didn't empower vets to "recommend" marijuana for pets. They also voiced concerns over the disciplinary restrictions in the bill, asking that they still be given authority to punish a veterinarian who recommends a dangerously high dosage of cannabis for treatment.
Our Riverside medical marijuana attorneys hope this bill is revised to reflect the concerns of the board and that it paves the way for man's best friend to get the best treatment. Without the board's support, this bill is pretty much dead in the water. We know veterinarians are the ones best equipped to make these decisions and should be the ones setting the rules. We also know that all too often, without the guidance of vets, people will turn to the Internet for answers. This is an easy way to put animals in harm's way by misdiagnosing their symptoms or giving them too high of a dose or allowing them to consume the wrong form of marijuana, all problems that could be avoided with the help of a veterinary specialist.
We also know the challenges that veterinarians face as the travel down this uncharted path. Even though we are learning more every day about the medical benefits of marijuana, there is still limited research due to the drugs classification as a Schedule I narcotic in the Controlled Substances Act, 21 U.S.C. Section 812. The research is even more limited when it comes to the effects on animals. But handing these decisions over to veterinary professionals is a good first step.
As laws continue to progress to expand medical marijuana use across the country, our team of trusted lawyers will be here to protect the rights of patients … even four-legged ones.
The Los Angeles CANNABIS LAW Group represents growers, dispensaries, collectives, patients, defendants, workers and those facing criminal marijuana charges. Call us at 949-375-4734.
Additional Resources:
California Bill Would Let Veterinarians to Discuss Cannabis with Clients, March 1, 2018, By Kerry Lengyel, American Veterinarian
More Blog Entries:
The Legality of Marijuana for Pets in Los Angeles, Oct. 29, 2017, Medical Marijuana Attorneys Blog