California Declares "War" on Illegal Marijuana Farmers, Retailers
California officials have announced they are bringing in the National Guard to "wage war" on individuals and businesses that are illegally farming, manufacturing and selling marijuana in the state. Citing research that shows the black market's detrimental effects to the environment, public safety and lawful sales, Gov. Gavin Newsome said a crackdown is imminent.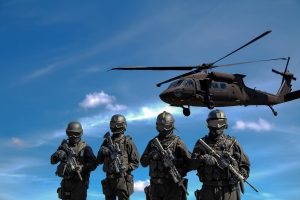 Los Angeles marijuana business lawyers have been warning of numerous raids and local law enforcement efforts to eradicate unlicensed pot shops and unauthorized farms right here in this city.
By some estimates, California is the origin of some 60 percent of the nation's illicit marijuana supply.
Los Angeles Crackdown of Illegal Marijuana Business Operations
In addition to state and National Guard enforcement, the Los Angeles Police Department is actively engaged in a crackdown on illegal cannabis cultivation and sales, which has recently involved shutting off utilities (electricity and water) to nearly three dozen L.A. marijuana businesses identified as operating without authorization. So far this year, the agency has made more than 100 arrests, seized more than two dozen firearms, $155,000 in cash and an estimated 8,000 pounds of marijuana. Law enforcement officials are asking city council for more funding to expand these operations.
Last fall, authorities reported more than 500 people were arrested for operating unlicensed Los Angeles marijuana businesses in 120 separate criminal cases from May to September, according to High Times. Prosecutors didn't limit the target to one specific marijuana business model either, taking down not only retail stores operating without proper licensing and permits, but also cannabis farms, extraction laboratories and home delivery services. In those cases, all were charged with unlicensed commercial cannabis activity, a misdemeanor that carries up to six months in jail and a $1,000 fine (though some did face more serious charges associated with higher penalties).
Of those earlier cases processed, 21 people pleaded no contest or guilty to criminal misdemeanor charges and 11 cases were dismissed.
Los Angeles marijuana business attorneys work with those facing criminal marijuana trafficking charges, as well as individuals and businesses that have struggled to obtain/retain lawful permits to make sure all applications are filed correctly, timely and with appropriate documentation so processing can be expedient.
Fighting for Legal Status in California's Cannabis Market
Neither the state nor the city has exactly made it easy, with a patchwork array of temporary and annual permits, including a number of temporary cannabis business state permits slated to expire in May (primarily thanks to sloth-paced processing).
It's not as if the state is fresh out of funding, reportedly receiving $345 million in cannabis sales taxes in 2018. However, this was almost half of what was projected.
In the latest statewide push, a lieutenant colonel with the California National Guard was quoted as saying their specific focus would be "big grows on public lands" that have a negative impact on the environment – particularly where it creates a fire hazard. (Many of those involved were most recently assigned to the California-Mexico border during what President Donald Trump called a "crisis" of illegal immigration.)
Blotting out the black market, though, is as much about preserving the integrity of the state system allowing legal recreational sales.
The current governor was an early vocal proponent of marijuana legalization. However, as long as there is little consequence to meeting the demand for cheaper product, it's bound to proliferate. He noted these same issues became problematic in Colorado after the state legalized pot for recreational users six years ago.
Part of this effort will include not just ferreting out nefarious operators, but also giving a tax break to above-board businesses, to help them better compete with black market sellers.
The Los Angeles CANNABIS LAW Group represents growers, dispensaries, collectives, patients and those facing marijuana charges. Call us at 949-375-4734.
Additional Resources:
California wages war against illegal weed farms; Gov. Newsom wants Trump to pay some costs, April 3, 2019, NBC News
More Blog Entries:
The Messy Legal Reality of California's "Green Rush", March 23, 2019, Los Angeles Marijuana Business Attorney Blog