California Marijuana Gummy Manufacturing Profitable – But Not Without Legal Risks
Whereas other sectors of the California cannabis industry have been struggling, THC gummy manufacturers have been thriving (at least where they're above-board and not being hit with multi-million dollar penalties for trying to side step state cannabis laws).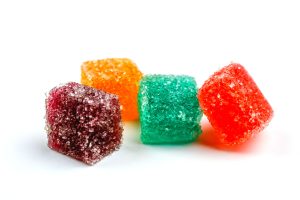 Sales of pot-infused edibles have tripled over the last four years – up to almost $1.4 billion nationally, with increases largely fueled by buyers who aren't keen on smoking or inhaling their THC fix and are looking for greater variety in options. To excel, many California gummy manufacturers are having to find a niche market: Fruity flavors, fast-acting ingredients, high potency for a decent price, etc. Consumers have their choice of a broad variety of cannabis-infused products – from cookies and chips to suckers and other candies. But gummies seem to be preferred. Fruit chews are the most popular, with caramels and taffy chews coming in No. 2.
Gummies are also very popular when it comes to minor cannabinoid products (those made not with THC, but CBD, CBN, and CBG). Edibles account for nearly one-third of all CBD products – and our Los Angeles marijuana business attorneys know that a significant portion of those are gummies.
But producers and manufactures of marijuana gummy products need to be extremely careful that they are following the letter of the law in the course of doing business. The California Department of Cannabis Control has stringent rules when it comes to process, potency, labels, and sales of cannabis products. On top of that, companies that flagrantly disregard state law may be inviting the eye of federal authorities. Although the U.S. Justice Department is no longer hyper-fixated on the marijuana industry in states where it's legal to buy/sell/possess, the tenuous peace made possible with the Cole Memo precedent only extends as a courtesy to companies that are following state standards.
Los Angeles Pot Gummy Operator Fined $128 Million
Failure to toe the line on state laws recently led to one Los Angeles County cannabis company being fined an unprecedented $128 million.
According to local news reports, the company was producing cannabis gummies without a license at a Los Angeles facility. The total value of product seized as part of the 2019 investigation was well into the tens of millions of dollars. Local authorities got an anonymous tip that the company (Vertical Bliss, which used to sell Kushy Punch brand products) was producing marijuana gummy products at a facility in Canoga Park. While operators did have a license to produce gummies at a facility in Chatsworth, they didn't have a license for the Canoga operation.
Authorities with the state's Department of Consumer Affairs raided the second site, and ultimately seized more than $20 million in illegal gummies. Further, investigators say the licensed facility was receiving/packaging gummies made unlawfully at the second site. Those products were then being pushed into circulation of the legal market.
The state ultimately revoked the company's licensing before filing a civil lawsuit for a number of statutory violations, as well as unfair competition. The judge issued a $128 million fine that the company now owes the state. It's believed to be the largest-ever cannabis company penalty in California. But that doesn't mean it's over for this firm. The company's brand of gummies is still being sold – not just in California, but three other states as well.
California Cannabis Laws for Gummies
For companies that produce and sell cannabis gummies in California, being licensed is just the start of what is required for lawful operation. Among the other rules that apply:
Proper packaging. All cannabis goods need to be contained in packages that are child-resistant, tamper-evident, resealable (if there's more than one serving in a package), and opaque. (Companies should be especially mindful to avoid copyright infringement as well.)
Accurate labeling. Very specific information must be on the primary panel and informational panel of all edible products. There also needs to be the universal symbol indicating the contents of the package contain cannabis. Labels also must indicate the source of the cannabis used. Any cartoon characters, candy imitations (even words like "candy") cannot be used at all. Unproven health claims are forbidden as well. The DCC has checklists, but companies should also run all labels by their Los Angeles cannabis business lawyer as well.
Proper testing. Routine testing for the safety and potency of all California cannabis products must be conducted according to the specific parameters outlined by state law.
Any company in California engaged in cultivation, production, packaging, sale, or advertising of cannabis gummy products should have an attorney on retainer to review processes and materials. This protects your people, your products, and your production.
The Los Angeles CANNABIS LAW Group represents growers, dispensaries, ancillary companies, patients, doctors and those facing marijuana charges. Call us at 714-937-2050.
Additional Resources:
Requirements for cannabis goods, California Department of Cannabis Control
More Blog Entries:
Expect Candy Corp. Cases Against Cannabis Companies to Compile, April 27, 2022, Los Angeles Cannabis Company Lawyer Blog