Catching a Plane? Be Wary With Weed, California Marijuana Attorneys Advise
When it comes to air travel and marijuana, it's unlikely the latter will be joining the "mile-high club" anytime soon. Although state-level marijuana laws have relaxed substantially in more than two dozen states, airline travelers traveling to and from other states and even countries (like Canada) where the drug is legal probably still can't take legally their weed with them – with some key exceptions.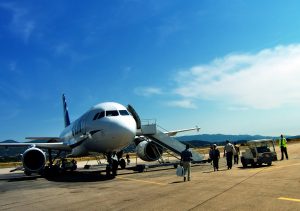 As California marijuana lawyers can explain, the biggest problem has been the continued federal prohibition on the drug. Under the Controlled Substances Act defining cannabis as highly addictive and dangerous with no recognized medicinal purpose, those who possess, distribute and transport the drug have committed crimes – even if it was all perfectly legal under state law. This conflict has impacted everything from banking to commercial leasing to business partnerships.
Airline travel is just one more area in which the industry and its consumers need to be mindful. When in doubt, be exceedingly cautious. Check out the policies of airlines both at your departing location and destination city. 
Los Angeles International, which is the No. 5 busiest airport in the world, recently announced a policy change pertaining to pot in the airport. Customers over 21 and older can have their marijuana on site. Similar policies are in place at Sea-Tac and Portland International, both of which abide by state laws in Washington and Oregon. That said, most airlines still won't allow it on-board, but Portland International even allows travelers to carry their stash on the plane on flights within the state, despite the fact airlines prohibit it.
Indeed, it's an increasingly tangled legal web, with airports and airlines alike scrambling to keep pace with rapidly-changing laws and public attitudes and consumer demands – while still balancing their obligation to federal law.
Keep in mind, no matter which airport you're in, personal possession of marijuana won't be allowed beyond the security checkpoint because this is a federal zone where U.S. law applies. That means no amount of marijuana is allowable. Most airlines won't let you bring it either.
Still, the Transportation Security Administration (TSA) can confiscate your drugs. That's not their purpose, mind you – they're there to combat terrorism, not carry on the failed War on Drugs. So when they do find drugs, they call local police. If you're in a state and city that allows legal marijuana, usually the most hassle you'll get is an officer asking you either to throw it away, store it in a vehicle in the parking lot or call a friend to come pick it up.
Police in Portland, Oregon have responded to roughly 80 calls pertaining to airline travelers so far in 2018, compared to 74 this time last year. TSA calls to police at the Los Angeles airport have been increasing also, according to authorities, since the law changed allowing recreational use. Most of these calls, police explained, are due to misunderstanding. They go to a California marijuana dispensary, purchase legal marijuana, pack it into their checked luggage for a flight to Texas, and soon they're facing felony charges.
In instances wherein TSA doesn't find your packages of pot, you might actually get through screening and make it onto a flight. That doesn't mean you did nothing technically illegal, just that you got away with it.
Throughout the airport in Las Vegas, you'll find 20 so-called "amnesty boxes" where you can toss away your leftover marijuana that you forgot to leave behind before you arrived for your flight. Whatever is left in those containers is destroyed, according to the county government.
Airport authorities in Las Vegas say marijuana isn't a major issue for them. In fact, it's the people who are drinking alcohol that tend to be more aggressive and pose a bigger problem. Those who are high on marijuana, they say, tend to be low-key and often apologetic. In Denver, officials say they have more problem with water bottles than marijuana.
Canadian Customs and Border Protection indicated on that if a person is traveling from Canada to the U.S. for purposes related to the marijuana industry, they may be deemed inadmissible to the U.S. People who work in the marijuana business industry but are traveling to the U.S. for unrelated purposes can generally be expected to be granted entry. However, as our Los Angeles marijuana attorneys can explain, it may result in some tricky questions for those who are asked about their employment. In general, one should never lie, but also bear in mind you can answer these questions narrowly, succinctly. The less information you can give, the better.
The TSA has been known to remove those working in the marijuana industry or those caught traveling with it from the PreCheck or U.S. Trusted Traveler programs (which reduce one's return into the country).
The Los Angeles CANNABIS LAW Group represents growers, dispensaries, collectives, patients and those facing marijuana charges. Call us at 949-375-4734.
Additional Resources:
Legal Pot Is a Nightmare for Airports and Travelers, November 2018, Bloomberg
More Blog Entries:
California Cannabis Intellectual Property Licensing Just Got More Complicated, Oct. 31, 2018, California Marijuana Lawyer Blog