California: No Marijuana Delivery With Drones
Internet distribution sites like Amazon are on the verge of delivering products – including food and beer – via drone. However, marijuana isn't soon to be on the short list, at least not in California. The California Bureau of Cannabis Control recently issued updated regulation banning drone delivery of marijuana.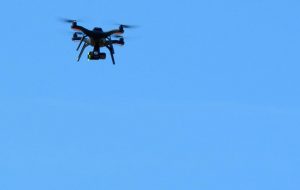 With state voter approval of legalized marijuana, state regulators are in the process of adopting a host of new rules and distribution in advance of a January 1st deadline for the state to start issuing marijuana retail licenses.
Simply from a new business perspective, the distribution of marijuana is an untapped market. There is an anticipated economic boom that is going to impact everything from security to banking to computer software to real estate to agriculture. Part of the industry is going to involve delivery, in some capacity.  Retailers are going to be seeking out inventive, convenient ways to deliver the product. 
Drones can already deliver you a pizza in the Golden State, but it can't deliver you green. This includes medical marijuana too. Patients have been receiving prescription medications delivered by drone for some time now, but no outlet provides medical marijuana via drone. This new directive from the state's Bureau of Cannabis Control formally prohibits the delivery of any cannabis by way of an autonomous vehicle – including ground, air and water transport of any kind if it's not manned.
It's expected that in the first year alone, the state is going to issue some 11,500 retail licenses.
So how can cannabis users obtain their marijuana? Deliveries are limited to in-person exchanges made by an individual operating an enclosed motor vehicle. The marijuana in the vehicle can't be visible to anyone in the public, and the products cannot be left unattended in the vehicle – unless the vehicle comes equipped with an alarm system that will activate if it is touched. When dispensaries designate a vehicle for marijuana delivery services, they must equip it with an active, functional GPS system that will give the dispensary the ability to track the location of the car throughout the course of the delivery.
These new rules are likely to complicate matters for the several firms that have promised to add drone delivery services to their offerings. These companies would do well to consult with the best marijuana delivery service lawyers in California to weigh their legal options. Entrepreneurs looking to break into the marijuana industry in Orange County would do well to familiarize themselves with the Commercial Cannabis Business Licensing Program Regulations, which spell out thousands of rules on virtually every aspect of the marijuana business in this state.
California is one of seven states that have recreational marijuana available. However, drones are first of all subject to Federal Aviation Administration rules, which firstly stipulate that drones have to fly within sight of the pilot. Secondly, marijuana remains illegal under federal law, so that may be taken into account. And even if the federal rules were changed, state and local governments still have the authority to regulate how marijuana might be distributed within that jurisdiction.
That's why it's so important to check with an experienced marijuana business attorney before investing or kicking off your marketing plan.
The Los Angeles CANNABIS LAW Group represents growers, dispensaries, collectives, patients and those facing marijuana charges. Call us at 949-375-4734.
Additional Resources:
Startup buzzkill: California bans drone delivery services of legalized pot, Sept. 10, 2017, By David Kravets, ArsTechnica
More Blog Entries:
Wedding Industry Says 'I Do' to the Marijuana Industry, Aug. 17, 2017, Orange County Marijuana Lawyer Blog