Former Real Housewife Plans to Launch "Munchie Free" Marijuana
These days, it seems like everyone is trying to cash in on the growing marijuana business. While entrepreneurs may have to wait for Congress to loosen restrictions nationwide, piecemeal business plans are already shaping up where pot is legalized, both for recreational or medicinal use. Investors are positioning themselves to make it big in the pot industry, even though pay-outs have been difficult to predict in Colorado, Washington, and eventually other states where tax burdens will likely increase the cost of legal-market pot.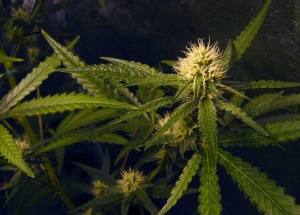 Still, entrepreneurs like Bethanny Frankel, best known for her role in the "Housewives" series, is going to reveal a "Skinnygirl" marijuana brand in states where cannabis is legal.
The Skinnygirl brand marketed low-calorie products to fit image of its founder. Now the new line of weed is allegedly supposed to curb the well-established "munchies effect" of pot smoking. According to US Weekly, plans are underway to launch the already successful brand in Alaska, Colorado, Oregon, and Washington where recreational cannabis has been legalized. Promoters and other insiders are backing up the claim that the new strand of weed won't give users the munchies, a promising attribute for those who want to enjoy the benefits of pot use while maintaining their weight. The Skinnygirl brand has been wildly successful nationwide for its other products, including the low-calorie "Skinnygirl Margarita" mix.

Different strains of weed, including those that are highly potent, are intended to attract users as diverse as the strains. The shift in branding illustrates the trend in marijuana sales, which puts a new slant on the traditional and stereotypical "stoner." No more is the image of the lone pot smoker in his dorm room, or hippie-like drumming circles smoking from a bong. The new image is wildly diverse and includes high-profile celebrities, high-fashion and the upper-class.
Branding like "Skinnygirl" could wrangle consumers otherwise left out of the pot market, including none other than soccer moms and "housewives."
The specially-engineered marijuana strain is designed to prevent users from getting the food cravings associated with pot smoking. Where users may be concerned about getting the munchies and reaching for that bag of Doritos, the new strain is marketed to weight-conscious consumers, which is arguably a wide slice of the U.S. market.
With a record of proven success, the new line could be profitable, and grow alongside the changing marijuana laws nationwide. The former Housewives star and business woman is currently in the midst of a contentious divorce. A previous offer for a $3 million dollar settlement from her estranged husband was rejected, as he wanted a larger chunk of her business and profits.
While recreational use is not yet legal in California, those with a medical use card can still benefit without the fear of prosecution. Despite legalization for medical use, dispensary owners as well as users should be aware of local, state, and federal marijuana laws to prevent liability. Our Orange County marijuana attorneys can help you ensure compliance, keep you abreast of marijuana law, and represent you in the event of a criminal investigation.
The Los Angeles CANNABIS LAW Group represents growers, dispensaries, collectives, patients and those facing marijuana charges. Call us at 949-375-4734.
More Blog Entries:
Getting Started in the Medical Marijuana Industry, May 15, 2014, Los Angeles Marijuana Lawyer Blog
Is the War on Drugs Over? January 12, 2015, Los Angeles Marijuana Lawyer Blog