U.S. Bill Would Protect Pot-Using Veterans' Military Benefits
Marijuana has proven an effective treatment for many military veterans grappling with conditions like chronic pain, PTSD (post-traumatic stress disorder) and symptoms of exposure to toxic chemicals like Agent Orange. For many, it's a better alternative than opioids, which are highly addictive, dangerous and recommended only for short stints. In many cases, it's even proven the key to escaping opioid addiction. Yet Los Angeles medical marijuana lawyers know that to use it – even if prescribed by a physician – is to risk losing all their hard-earned military benefits.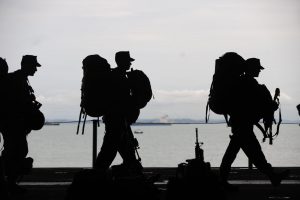 A new bill filed by a U.S. House of Republican – with bipartisan support – would protect veterans from losing their federal benefits for using medicinal marijuana. Additionally, the Veterans Cannabis Use for Safe Healing Act would allow doctors at the Department of Veterans Affairs to recommend cannabis for medicinal purposes to patients there.
L.A. Attorneys Fight for Military Veterans' Cannabis Rights
Los Angeles cannabis attorneys for years have fought to prevent veterans from losing these critical benefits simply for seeking medically necessary treatment. A measure like this would solidify a military veteran's entitlement to services  – and further enshrine them so they could not be altered subject to the whim of future federal administrations. Taking it a step further (and to avoid any conflicting messages on this) the proposed law would also change the existing VA rules that prevent doctors within the department from filling out any forms that might help a veteran obtain medicinal marijuana.
As it stands now, VA doctors are restricted to discussing marijuana with patients and noting in medical records when/if they reveal medicinal use.
The bill's sponsor released a statement underscoring his commitment to making sure military veterans get the care they deserve and aren't unfairly penalized for seeking or obtaining it.
Bipartisan Support for Military Veterans' Marijuana Rights
The fact that both Republicans and Democrats are coming together on this issue, particularly now at a time of bitter partisan infighting on almost everything, speaks volumes about the fact that the tide is well into the midst of turning when it comes to federal law and marijuana.
The drug continues to remain a Schedule I narcotic under the Controlled Substances Act, placing it in the same category with heroin, methamphetamine and LSD. These are drugs that have no recognized value as medicine, are incredibly addictive and dangerous. Obviously, this descriptor is nowhere near inaccurate, and it isn't reflective of sweeping state law changes the last two decades (starting with California).
Although cannabis operations are tenuously protected from federal prosecution thanks to The Cole Memo, there are indicators we may see tangible changes on the horizon. The 2018 Farm Bill declassified hemp and CBD-derived hemp. Months earlier, the U.S. Drug Enforcement Administration bumped CBD from a Schedule I classification to the much lower Schedule V.
The Los Angeles CANNABIS LAW Group represents growers, dispensaries, collectives, patients and those facing marijuana charges. Call us at 949-375-4734.
Additional Resources:
New Bill Would Protect Veterans From Losing Benefits Over Marijuana, April 10, 2019, Marijuana Moment
More Blog Entries:
Interstate Cannabis Commerce? Oregon's Readying For It, April 9, 2019, Los Angeles Military Veteran Cannabis Lawyer Blog