Adding a Little Green to the Red, White, and Blue
Sparklers weren't the only things people were lighting up across the country this Fourth of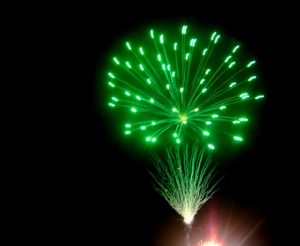 July. Residents of states with adult-use marijuana laws were enjoying newfound freedoms to consume cannabis products. This was especially true here in California with this being the first Independence Day with legalized recreational marijuana.
The holiday came just a few short days after regulations went into place for packaging and sales of cannabis in California. The new rules mean that all products must meet certain standards of quality control, pass tests for safe pesticide content, and have packaging that clearly displays warnings and the makeup of the product, including THC levels. This spurred retailers to offer deep discounts on cannabis products last month that did not meet new standards, putting an influx of marijuana in the hands of Californians ahead of the July 1 deadline. This made for a very happy Independence Day for many users, indeed.Some people used the holiday famous for cookouts and picnics to try new cannabis-infused recipes. Others hosted soirees that allowed celebrants to indulge in cannabis products and enjoy the holiday, all while staying at one location, according to Palm Spring Desert Sun. One local inn, which has dubbed itself a "bud and breakfast," hosted a Fourth of July event complete with swimming, catered snacks and meals, cannabis and crystal healers, vendors, dispensary representatives, and music, all with a safe place to crash at the end of the night.
This type of event was ideal for law enforcement, who were encouraging residents to play it safe when it came to driving over the holiday. Police already have to be extra aware of those  driving under the influence over the week of July 4 because of heightened alcohol consumption. Law enforcement officials warned residents of the importance of making sure they had a designated driver if they were consuming cannabis, as well, and to be particularly aware of the effects of mixing marijuana with alcohol or other drugs.
Independence Day isn't always a party for everyone, though. For some, including veterans who have experienced combat situations, fireworks can trigger symptoms of post-traumatic stress disorder and cause heightened anxiety. Many veterans are finding cannabis to be a respite from some of their PTSD symptoms, however. With easier access to CBD oils, and recreational products, veterans had more options to help keep calm amidst explosive displays this year. Even man's best friend found some peace over the holiday thanks to cannabis. Some pet owners reported buying CBD-infused oils, chews, and dog treats to help their furry friends stay calm during fireworks shows.
The many freedoms cannabis users can now enjoy should not be taken for granted, however. Our Riverside marijuana lawyers know all too well that with marijuana still banned federally under Controlled Substances Act, 21 U.S.C. Section 812, and with the many sales restrictions and bans by local jurisdictions throughout California, there is still a long way to go before marijuana users can truly be free. Those looking to set up a marijuana business or understand local cannabis laws in Southern California can trust the guidance and experience of our knowledgeable legal team.
The Los Angeles CANNABIS LAW Group represents growers, dispensaries, collectives, patients, defendants, workers and those facing criminal marijuana charges. Call us at 949-375-4734.
Additional Resources:
To Calm Dogs Spooked by Fireworks, Pet Owners are Using Treats Made from Marijuana Plants, July 4, 2018, By Vikki Ortiz, Chicago Tribune
More Blog Entries:
Want to Honor Veterans? Access to Medical Marijuana a Good Start, April 13, 2018, Marijuana Lawyer Blog