CA Cannabis Company Criminally Charged With Dumping Toxic Waste
Anymore when we talk about criminal charges for cannabis companies, it has to do either with unlicensed dispensaries or unlawful sales. Since the 2013 Cole Memo de-funded prosecution of state-legal marijuana businesses and especially since Prop. 64 nixed pot prohibition in the state three years ago, it's rare that federal authorities will pursue charges against cannabis companies or operators in connection with their work.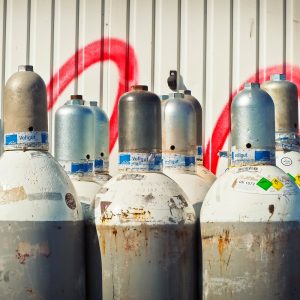 Recently, though, two California cannabis company top executives were arrested, their company also charged, for allegedly dumping 1,500 pounds of toxic waste in violation of U.S. Environmental Protection Agency regulations.
The indictment, filed last month in the U.S. District Court in the Southern District of California, notes a history of illegal dumping of waste material from the firm's cannabis extraction lab. Specifically, drums of ethanol waste.
Cannabis Extraction Results in More Ethanol Waste
Ethanol and Its Guidelines
Ethanol is a dangerous waste material firstly because it is highly flammable and combustible. Strict industry standards govern handling, use, transport and waste disposal of ethanol used by cannabis businesses. The guidelines are in place to limit risk to both human and environmental danger.
The U.S. Food & Drug Administration classifies ethanol as a Class 3 solvent, meaning a person may be at low risk of either acute or chronic toxicity if they ingest it, but it can be hazardous in a workplace. That's why OSHA has guidelines about environmental exposure to workers and the National Fire Protection Association denotes it as a Class I flammable liquid, requiring careful storage and disposal.
Proper Disposal of Ethanol Waste by California Cannabis Companies
As Los Angeles cannabis laboratory attorneys can help explain, these products are prohibited from simply being dumped down the drain. EPA rules won't allow dumping toxic/flammable material into a public sewer – even if you dilute it with lots of water.
It should also be noted that federal environmental protection authorities don't base this decision on the quantity disposed. So even if you have a small amount, it's still not considered legal to dump it.
Cannabis laboratories can face felony federal charges per 42 U.S.C.  82 if defendants are caught intentionally trying to avoid proper collection and disposal of these chemicals (typically to sidestep cost). In addition to dumping down the drain, igniting or pitching in the trash, other forms of illegal disposal of ethanol can include:
Evaporation;
Dilution;
Neutralization of chemicals.
Proper disposal of ethanol by California cannabis companies involves:
Donning appropriate protective gear/equipment;
Decontamination of the work area with soap and water;
Solid waste material that contains ethanol (i.e., rags or paper towels) should be thrown into waste bins;
Bins should be kept clear of any source that might ignite them as well as clear of sinks or drains where any waste might sink into the drainage system;
Waste containers must be have a securely-closing non-fume lid (to assure incompatible chemicals aren't accidentally mixed together) and be appropriately labeled as holding hazardous waste;
Title, contents, date should be recorded on the bins tags immediately upon depositing the ethanol in the containers;
Garbage containers with ethanol in them need to disposed of within three months.
Additional protocols exist for larger spills.
Prosecutors: Cannabis Lab Hired Driver to Dump Waste
According to the indictment, the two company owners hired an unlicensed waste disposal driver to dump 28 drums containing some 55 gallons each at half a dozen sites in a single Southern California county. This occurred from November 2017 through last June.
Defendants are accused of paying the hauler in cash and failing to file the necessary paperwork required when disposing of this type of waste.
An attorney for the cannabis executives refuted the allegations to local media, insisting his clients were permitted and regularly inspected by the state and were at all times in compliance with state and federal regulations. The pair reportedly knew nothing about illegal dumping, the lawyer said. He placed the blame instead on an inexperienced consultant hired to assist the firm in maneuvering legally through state and federal laws.
If that's true, it's a good lesson in why it's imperative to choose your cannabis counsel carefully.
The Los Angeles CANNABIS LAW Group represents growers, dispensaries, ancillary companies, patients, doctors and those facing marijuana charges. Call us at 949-375-4734.
Additional Resources:
U.S. v. WellsgreenSCA Inc., et al, June 19, 2019, U.S. District Court for the Southern District of California