Expect More Recreational Marijuana Events in Our Future
In a big step toward the normalization of cannabis, the 2018 NorCal Cannabis Cup in Santa Rosa, Calif., has been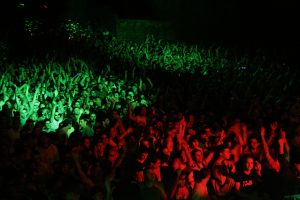 granted a recreational marijuana license. In the past, the event was only a gathering of people who appreciated cannabis, with booths, activities, food, music, and marijuana-related products, but not the real deal. Now marijuana businesses and consumers alike can enjoy the thing they all have in common, allowing the community to share cannabis goods and knowledge on a new scale.
This is only the second event in the U.S. that allowed the sales and consumption of cannabis, according to a report from High Times, host of the event. The Central Valley Cannabis Cup in Sacramento in early May was the first event to receive such a license and was also hosted by High Times. While the first event was groundbreaking, in some ways it is the second event that is a sign of times to come. Attendees and marijuana businesses at the Central Valley Cannabis Cup proved that an event of this kind can be run safely and responsibly, making it possible for more events in the future. These gatherings can also have a major impact on local economies, bringing in tourists and vendors to the area. This is, of course, in addition to the publicity and money-making opportunities available to businesses inside the event.Though recreational marijuana is now legal in California, public consumption of marijuana is still banned. Under Medicinal and Adult-Use Cannabis Regulation and Safety Act Sec. 102, local jurisdictions may issue temporary licenses for events that wish to allow cannabis use and sales on site. To remain in compliance with MAUCRSA, attendees must be 21 or older, marijuana consumption cannot be visible from public spaces or from areas where there are people under the age of 21, and alcohol sales and consumption are not permitted on the premises. Tobacco use and sales are also forbidden on site. Attendees with proper identification may purchase up to one ounce, as afforded by Proposition 64.
While some of these rules might be overly precautious, it is a testament to how serious Californians are about responsible use. Marijuana advocates understand that cannabis can be both safe and enjoyable, while also requiring common sense regulations, just like alcohol. Most people are simply glad to be able to share in a product they are passionate about with like-minded individuals, particularly if they live in an area of the state that does not yet allow cannabis sales. High Times has been hosting Cannabis Cups for 30 years and said they hope to set up more events around the country.
Our Riverside marijuana business attorneys are excited for what events like this could mean for the future of cannabis. We appreciate seeing opportunities where our cannabis business clients can network, grow and succeed. The more people have seen what the community is really all about, the more it has become accepted. Since some stigmas around marijuana still exist, these gatherings also strengthen the cannabis community by creating a space where people can learn from each other. Our legal team has been helping cannabis businesses thrive for years, and can assist you with licensing, businesses plans, and compliance — including at conventions and other events.
The Los Angeles CANNABIS LAW Group represents growers, dispensaries, collectives, patients, defendants, workers and those facing criminal marijuana charges. Call us at 949-375-4734.
Additional Resources:
High Times to Host First-Ever Licensed Recreational Cannabis Event, May 2, 2018, By Sean Cooley, High Times
More Blog Entries:
California Department of Public Health Launches Education Campaign Ahead of Recreational Marijuana Sales, Oct. 19, 2017, Cannabis Law Group