Long Beach Moves Forward with Recreational Marijuana Business Plans
Thanks to Prop. 64, the state of California is considering applications for licenses for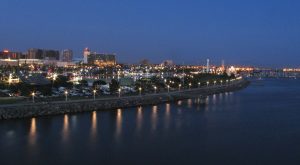 recreational marijuana businesses beginning Jan. 1, 2018.
Authority rests with local governments to decide whether to allow recreational marijuana sales to go into effect in their area, giving them power to either issue bans or develop policies for businesses to operate.
The Long Beach City Council is the latest to join the movement. The council recently voted to move ahead with developing policies for recreational marijuana businesses to operate in Long Beach. According to an article from the Long Beach Press Telegram, Long Beach has more than 100 pending applications for a wide range of marijuana businesses. Two of an allotted 32 dispensaries have opened so far in the area, in Rose Park and Belmont Shore.
In November 2016, the same time Prop. 64 passed, Long Beach repealed its medical marijuana ban in the city, as citizens voted in favor of Measure MM. Since then, the city has been ironing out the details of medical marijuana regulations and policies. Some of the council members objected to moving forward with recreational marijuana policies until the all of the issues with medical marijuana implementation had been settled.
The measure, however, passed. Supporters cited a desire for the city to have more control over implementation than they did with medical marijuana. After securing a medical cannabis dispensaries ban in the city, citizens and the industry took control with a ballot measure, and the city no longer had as much say.
The process for Long Beach creating regulations for commercial recreational businesses will not make the Jan. 1 rollout across the state. In the meantime, a 180-day temporary ban will be put in place until city council can vote on final regulations. Of course, nothing is final, and it is still possible the city will ultimately not continue forward with plans to allow businesses to establish there.
Among considerations during this time will be how many dispensaries will be permitted, where they will allow businesses to be located, conditions for approval, and labor provisions. Council is considering keeping the cap on dispensaries at 32 total and encouraging medical and adult-use dispensaries to operate jointly.
Other cities nearby have held firmly to their respective bans on commercial marijuana businesses. Some of those cities include Downey, Lakewood, and Cerritos. Carson has OK'd marijuana testing, growing, and manufacturing, as well as door-to-door delivery and personal use cultivation with restrictions, and limited indoor commercial operations, but still rejected commercial dispensaries in city limits.
Bellflower has approved up to a dozen licenses for cultivators, processors, and dispensaries, and has started taking applications.
Long Beach council members will be looking closely at regulations around the state as they make decisions on how to best craft policy for the city. And our Los Angeles recreational marijuana business lawyers are keeping an eye on all the latest developments in cities across the region. If you're considering opening a cannabis business, whether it be commercial or medical, our attorneys can help you properly file business license applications and navigate local laws from city to city, while also keeping in mind state and federal regulations.
The Los Angeles CANNABIS LAW Group represents growers, dispensaries, collectives, patients and those facing marijuana charges. Call us at 949-375-4734.
Additional Resources:
Long Beach wants to allow recreational cannabis businesses in 2018, Nov. 15, 2017, by Courtney Tompkins, Long Beach Press Telegram
Other Blog Entries:
Long Beach Wins Battle to Ban Medical Marijuana Dispensaries, July, 29, 2016, Cannabis Law Group