Marijuana Business Perils of Cash-Only Commerce
While legal sales of recreational marijuana in California will be a reality in a matter of weeks, it's also true that marijuana businesses face some major logistical hurdles. One of the most difficult among those challenges is being forced to do cash-only commerce.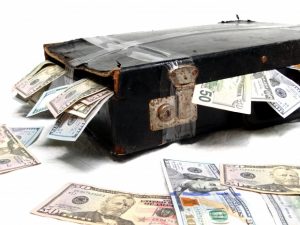 Because marijuana is still illegal at the federal level (a fact that seems unlikely to change under the current administration), federally-backed banking institutions are vulnerable to potential seizure of funds by the FDIC if they accept money derived from criminal activity. Essentially, these financial firms can be prosecuted for money laundering. The result is that the majority of marijuana businesses – about 70 percent – don't have a bank account. There are only a few banks that will accept marijuana business clients, and they rarely advertise it.
As an article in The Economist recently noted, this fact put some cannabis farmers in Northern California in serious financial jeopardy when the wildfires consumed not only their crops, but their cash. In one instance, a cannabis genetics consulting firm lost $250,000 that had been stashed in a cabinet. Another cannabis cooperative in Medicino County reported the loss of hundreds of thousands of dollars by some 20 members who buried their cash and gold stashes – only one of which was buried deep enough to survive destruction.
Although Proposition 64 broadened the legalized use and sale of marijuana in California, it did nothing to ease the federal banking regulations that have financial institutions reticent to take work with cannabis companies. The reality is unless there is some action on this front at the federal level, these kinds of issues will continue to occur.
Our cannabis business attorneys in Los Angeles know that this federal-state conflict sets off a number of other issues.
Because these firms operate primarily in cash, they are at risk of robbery. Cannabis business owners know that if they want to stay operational, they must invest in tight security measures. This is further underscored by the fact that California's new recreational cannabis regulations require minimal security levels, though most already have some type of system in place.
Authorities have expressed concerns that because these businesses mostly deal with untraceable cash, they will be targets – or facilitators of – public corruption, specifically bribes or kickbacks for profitable licensing and permits.
Another common issue is insurance coverage. We saw this with the recent wildfires too. Although insurance coverage would provide security for natural disasters, many marijuana businesses can't afford the coverage.
One alternative to which some businesses are turning are so-called "cryptocurrencies." These are transaction forms such as bitcoin that many are banking on being safer from prosecution, theft or natural disasters. As noted by a Bloomberg analysis earlier this year, these kinds of digital coin services create an intermediary that allows cannabis companies to use bank-issued credit cards for transactions. These operations are still transparent, but don't require access to traditional banking services. Customers can use their credit cards to buy digital credits for a transaction fee and cannabis companies that accept that type of currency. These digital currency services say they have taken a number of steps to ensure compliance with federal law, but it's important to discuss your business practices with an experienced marijuana lawyer for maximum protection from federal and regulatory scrutiny.
The Los Angeles CANNABIS LAW Group represents growers, dispensaries, collectives, patients and those facing marijuana charges. Call us at 949-375-4734.
Additional Resources:
Marijuana businesses, excluded from finance, are forced to use cash, Dec. 6, 2017, The Economist
More Blog Entries:
Federal Banking Regulations Make Dispensaries Robbery Targets, Nov. 18, 2017, L.A. Marijuana Business Attorney Blog