Marijuana Policies on Colorado Ski Slopes
The legalization of marijuana has changed environments from college campuses and cafes to the streets. But what about Colorado's famous ski slopes?
According to reports, locals and tourists alike have been taking advantage not only of Colorado's world-famous powder, but access to marijuana while there. Skiers are likely to see pot smoking outside the lodge, on the chairlifts and on the slopes.
Despite all this, pot smoking is actually highly-regulated on the slopes through strict policies and heavy taxation. It's important for both visitors and lodges alike to understand their rights, obligations and potential liabilities.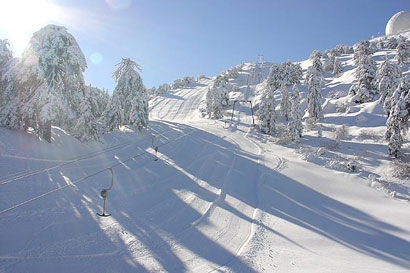 Since Colorado voters passed legislation to legalize marijuana in 2012, dispensaries are able to sell a variety of marijuana-laden goods, from resin to edibles. In addition to the legalization of dispensaries, adults over the age of 21 are able to own, buy, and possess up to an ounce of marijuana. Tourists can purchase up to a quarter of an ounce, which is often consumed, before or after a day enjoyed on the ski slopes.

Tours of some of the most reputable Colorado ski resorts, including Aspen, Vail, Breckenridge, Crested Butte, Telluride, and others advertise "party packages" in which skiers can pay a lump sum for transportation to and from recreational marijuana dispensaries, the slopes and back to the lodge.
But despite the availability of marijuana, it is only clearly allowed in the private home. Smoking marijuana is not permitted in shops or in public, including on the ski slopes, chairlifts, bars, or other areas inhabited by skiers and snowboarders. Despite these clear laws, there are unhidden "smoke shacks" in the woods near many of the resorts. According to reports, smoking in public, including on a private balcony can be risky and leave the user open to potential criminal liabilities.
It could also leave the lodge open to a possible negligence action if an intoxicated skier is hurt while skiing after smoking.
Whether you are visiting Colorado to ski or to enjoy recreational marijuana, it is important to be wary of local, state, and federal drug laws. Our Orange County marijuana dispensary attorneys understand the uncharted nature of evolving state laws. Unfortunately, given the varying laws by jurisdiction, many individuals and dispensary owners could be held criminally liable. If you are under investigation or have been charged with a marijuana crime, we can protect your rights and interests. In Colorado, individuals can still face liabilities if they are not in compliance with usage laws.
For visitors, seeking out cannabis-friendly hotels may be the solution. Private lodgings, including AirBandB apartments, may advertise "420-friendly" rooms. For those on the slopes, it could be more complicated. Though ski resort visits rates have been up since marijuana was legalized, it is important for tourists to understand how much they are allowed to purchase and carry, as well as where it is legal to smoke.
"Stoned skiing" could be considered a hazard. Resorts have taken different approaches when dealing with pot on the slopes. Colorado law strictly prohibits marijuana consumption when it could be dangerous to others. The Colorado Ski Safety Act also imposes a $1,000 fine for those caught on a lift or a ski run while under the influence of alcohol or other drugs. Marijuana use advocates advise to consume pot on private property and make sure the effects have worn off before hitting the slopes.
Organizations looking to organize tours should also consult with an experienced marijuana attorney to ascertain all potential legal liabilities and obligations.
The Los Angeles CANNABIS LAW Group represents growers, dispensaries, collectives, patients and those facing marijuana charges. Call us at 949-375-4734.
Additional Resources:
Smokin' on the slopes? Colorado ski resorts issue weed warning as legalization nears, Dec. 13, 2013, Fox News
More Blog Entries:
Getting Started in the Medical Marijuana Industry, May 15, 2014, Los Angeles Marijuana Lawyer Blog
United States Marijuana Laws Influencing Other Countries, February 14, 2014, Los Angeles Marijuana Lawyer Blog