Young Migrants Flock to Humboldt for Harvest Season
Migrants seeking work have continued to descend upon Humboldt County to work at the center of the marijuana industry in California. The workers come from all over the world and take part in the marijuana harvest as "trimmers." According to an NPR report, "trimmers" are responsible for manicuring the buds so that they are prepared for the market. Locals refer to the harvesters as "trimmigrants."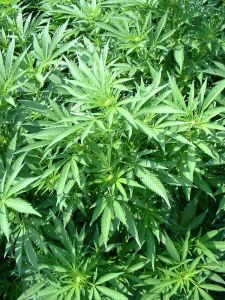 To understand the importance of trimming, it is critical to understand how marijuana plants grow. Marijuana grows like a bush and produces a flower or "marijuana bud." A trimmer is responsible for trimming the leaves and stems and shaping the marijuana buds. The process is part function, part aesthetic, as sellers want to make their weed stand out when it is sold at medical marijuana dispensaries or on the black market.
It is estimated that there are over 100,000 plants growing in the Humboldt County area and all must be harvested and processed in the same short period of time. Proper harvest prevents the plants from getting moldy and deterioration. The harvest season begins in September and extends through the month of November, the busiest time for those looking to work as trimmer. Trimmers are both men and women, many bring their backpacks and their pets, to enjoy the culture and the work afforded during the short time in Humboldt.
Trimming is considered an illegal operation so any of the workers who are caught could be charged with a drug crime. Another problem is that there is a shortage of housing, not just for those who come to work, but for those who are unable to find work. For those who do find work, the pay can be good. Trimmers are paid by the pound and those who know what to do and work quickly can make up to $500 in a day. Of course, they are also paid in cash and under the table, so the wage is also tax-free. The job also comes with risk, because all trimmers could wind up in jail if the site gets busted.
Locals have complained about the attraction of migrant trimmers because many of the drifters have nowhere to stay. They are obstructing many businesses on the streets and creating squatter camps that have damaged the river. Law enforcement officers have pointed out that the majority of growing that happens in the county is illegal so hiring drifters also puts the operators at risk. There have also been reports that the trimmers have been killed or gone missing while working in remote areas.
Marijuana growing is a complicated business in California and can result in drug charges. If you were arrested while trimming at a grow operation or you are facing other marijuana drug charges, our Orange County marijuana lawyers can help. We are experienced in the investigation of drug crimes and will take a strategic approach to protect your rights, defeat or minimize your charges, and work to keep you out of jail.
The Los Angeles CANNABIS LAW Group represents growers, dispensaries, collectives, patients and those facing marijuana charges. Call us at 949-375-4734.
More Blog Entries
Employers Continue to Discriminate for Medical Marijuana Use, May 11, 2014, Los Angeles Marijuana Lawyer Blog
Getting Started in the Marijuana Industry, May 15, 2014, Los Angeles Marijuana Lawyer Blog