Marijuana Industry Gets Increasingly Political
In some ways, the marijuana industry is inherently political. It's very existence is owed in large part to the dedication and drive of avid activists who fought in the face of hard-line opposition.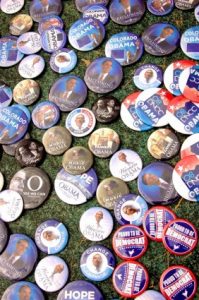 But for a long time, the industry didn't weigh in much on individual candidates because frankly, no one was seeking their support. It was seen as risky and potentially political suicide.
Today, attitudes have shifted. The majority of Californians – and now even Americans – support safe access to medical marijuana. Most people are even beginning to warm to the idea of recreational marijuana, an issue slated to be before voters once again this November. With all that, the industry has grown – as has its voice and political clout.
Recently, the Orange County Register reported California Rep. Loretta Sanchez, vying for the seat of outgoing U.S. Sen. Barbara Boxer, was proud to receive a "glowing endorsement" from the legal marijuana industry.
Specifically, the top brass at the first medical marijuana dispensary in Orange County penned a missive that was sent to more than 800,000 customers in the region, encouraging them to vote for Sanchez, a Democrat. She is competing against Attorney General Kamala Harris for the seat. It's a heated competition, so every bit of support helps.
In the letter, the CEO of the dispensary wrote that Sanchez's history was one of unwavering support for medical marijuana in California. Specifically, she fought to stop the federal raids on dispensaries throughout the state and also championed the state's right to regulate cultivation, distribution and use. He wrote that she did all of this "before it was a popular thing to do."
An adviser for Sanchez's campaign conceded later to a reporter that the endorsement was unconventional, but she welcomed it nonetheless.
On the other hand, Harris may be receiving her own political endorsements from top pot leaders. She has reportedly been a longtime supporter of medical marijuana and has petitioned the federal government to reclassify marijuana on its schedule of controlled substances. She also generally supports recreational legalization – with proper regulation.
Again, industry insiders have been advocating for legal marijuana in the political sector for years. But this type of campaigning – weighing in on individual candidates and taking on an active and influential role – that's not something we have historically seen. Fred Smoller, a political science professor at Chapman University, told the Register that we can expect to see more of this, as marijuana is now recognized as a fully legitimate industry. In this country, industries get involved in the political process.
Will it make much of a difference in the Harris v. Sanchez race? It remains to be seen. However, it's not likely to hurt the candidates the way an endorsement from, say, the tobacco or oil industry would. It also will not help them as much as an endorsement from a police union.
Nonetheless, we are likely to see an uptick in marijuana advocates weighing in on political races, bills and more.
The Los Angeles CANNABIS LAW Group represents growers, dispensaries, collectives, patients and those facing marijuana charges. Call us at 949-375-4734.
Additional Resources:
Pot gets political: Santa Ana marijuana dispensary endorses Loretta Sanchez, June 1, 2016, The Orange County Register
More Blog Entries:
City of Los Angeles Targets Another Marijuana Delivery Service, May 21, 2016, Orange County Marijuana Lawyer Blog