Report: California Banking for Bud Businesses is a Bust
Hopes of a public bank to serve California cannabis companies appear to have fizzled with an extensive marijuana banking report from the state Treasury Department explaining that as long as marijuana remains a Schedule I narcotic per U.S. Code, any publicly-funded banking intended for companies that sell it would put tax money at risk.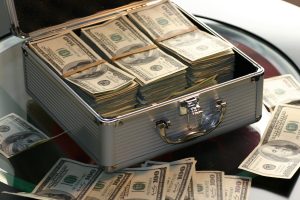 When you're working with a Los Angeles marijuana business lawyer to get your cannabis business plan, licensing, permits, insurance and quality compliance in order, inevitably, one issue that will arise is how you plan to manage your money. Cannabis companies can't just open a business checking or savings account like any other because technically, selling marijuana is still against federal law, thus proceeds are "dirty money," and any banker who works with these firms knowing what they do could be found guilty of money laundering. That would cost the financial firms their banking charters and effectively put them out of business.
Of course, it's utterly ridiculous given that the plant is legal now in most states in some form or another. Los Angeles marijuana lawyers suspect U.S. law will eventually catch up to the science and times. For now, though, California pot shop owners slog through major logistical hurdles of operating almost exclusively in cash, leaving them vulnerable to robbery, thwarting growth and denying additional tax revenue to both the state and local governments. 
Although there is clearly a need for some type of solution, the report's findings align with conclusions reached by the state's attorney general as well as state legislators, who voted down a bill to launch a public bank for pot shops earlier this year.
The report, titled, "State-backed Financial Institution (Public Bank) for the State of California Servicing the Cannabis Industry Feasibility Study 2018," explains why such a move would pose potentially insurmountable challenges. Among the cited reasons our Los Angeles marijuana business lawyers found worthy of note:
A state-funded public bank would necessitate roughly $1 billion in capital investments, which would likely take about six years to acquire. Further, it could be as many as three decades after its opening before the public bank started seeing dividends, meaning earliest possible date could be 2050.
If the federal law changed at any point in the interim while the state bank was building up to that point, it would end the pressing need for a state-backed baking solution.
Public banks, the group concluded, have historically had marginal or no success profit-wise. As it now stands, there are two – one in North Dakota and another in American Samoa. They aren't exactly the best model to predict a forecast, though, since neither cater to cannabis companies.
Researchers recommended two likely more expedient solutions. One is placing pressure on the federal government to amend the Controlled Substances Act to remove marijuana as a listed Schedule I narcotic. This would eliminate the need a public bank altogether. In the meantime, policy analysts recommended the state establish an agency responsible to determine how the state processes marijuana business money and encourage private sector banks to work with California cannabis companies that are abiding state law.
Marijuana business lawyers in Los Angeles can provide consulting to entrepreneurs in the process of formulating or reworking financial strategy and business plans that will maximize security and success.
The Los Angeles CANNABIS LAW Group represents growers, dispensaries, collectives, patients and those facing marijuana charges. Call us at 949-375-4734.
Additional Resources:
State-backed Financial Institution (Public Bank) for the State of California Servicing the Cannabis Industry Feasibility Study 2018, Dec. 6, 2018, Level 4 Ventures, Inc., on behalf of California Treasury Department
More Blog Entries:
California Marijuana Company Siphons Uber, Lyft Workers for Cannabis Deliveries, Dec. 10, 2018, Los Angeles Marijuana Lawyer Blog