Thousands Gather at Kush Expo in Anaheim to Support Medical Marijuana in Orange County
The event organizers of the Anaheim Convention Center's marijuana expo were so thrilled with the turnout of their first annual Kush Expo that they've already jumped the gun and celebrated their second annual event just eight months later. Organizers were so overwhelmed with the turnout of advocates for medical marijuana in Orange County from the first event, they decided to keep the momentum going with the second annual event that was held last weekend.
The Kush Expo was held, again, at the Convention Center. Organized are already planning a third expo and have it booked it for November 18th through the 20th of this year.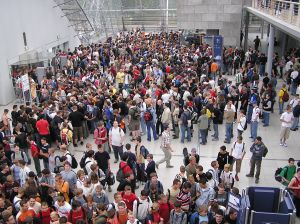 Our Los Angeles medical marijuana lawyers understand that these events truly illustrate the number of supporters and active members we have in the medical marijuana industry. This is an industry that provides so many residents with healing medications that allow them to function properly on a daily basis and to reduce the side effects of terrible diseases and conditions. The first annual expo that was held last November attracted thousands of people during the three-day event.
"There's such an upward swing," said on participant, who has a doctor's recommendation to use marijuana for panic attacks and sleep problems. "More and more states are legalizing it for personal use, for medical use. I don't see any reason why it wouldn't be legalized."
Some people were a little disturbed by the event. The expo included a smoking patio where card-carrying medical-marijuana patients were able to smoke pot during the event, just outside the Convention Center doors.
"I think that it's a pretty cool sign for those of us who support legalization of marijuana that this kind of event goes on in the heart of Orange County – and it's accepted," said one medical-marijuana user and attendee of last year's Kush Expo. "I think society is beginning to get the picture that cannabis isn't as dangerous as previous generations have made it out to be."
Only those who were 18-years-old and older were allowed into the expo. The Kush Expo was coined the biggest marijuana convention in Orange County. There were dozens of vendor booths with representatives from collectives and dispensaries throughout the state. There was also growing and smoking equipment available as well as doctors who there to offer exams to issue medical-marijuana cards.
"This is not just a party card," said Dr. Lucia Ferraro, from Sherman Oaks. "My typical patient is not a 20-year-old stoner. It's somebody 40-plus who needs help from prescription medicine or from pain."
Anaheim has an ordinance that bans all medical-marijuana dispensaries within its city limits. The city has been battling that decision in court to defend its stance.
City officials understand that the expo provided visitors with a smoking section. It was after all approved by city council. Security officers were on scene to ensure that it was only open to qualified patients. There were no pot sales during the expo.

The Los Angeles medical marijuana lawyers at the CANNABIS LAW GROUP are offering legal assistance to medical marijuana dispensaries and collectives throughout the Los Angeles area. Call 949-375-4734 for a confidential consultation to discuss your rights.
Additional Resources:
target="_blank"
High times at Anaheim marijuana convention, By Doug Irving, OC Register
Smoke rises from O.C. pot expo, by Eric Carpenter, OC Register
More Blog Entries:
Robbie Waters – From Sacramento City Council to Political Consultant for Marijuana, Marijuana Lawyer Blog, July 9, 2011
U.S. Officials Propose Bill to Legalize Medical Marijuana Nationwide, Marijuana Lawyer Blog, June 30, 2011
Miracle-Gro Looks to Jump into Medical Marijuana Production in Los Angeles and Elsewhere, Marijuana Lawyer Blog, June 29, 2011