Feds Want Banks' Marijuana Business Data to Bust Money Laundering Schemes
Federal authorities with the U.S. Treasure Department want banks to begin collecting – and turning over – data from their marijuana clients so investigators can uncover potential money laundering schemes.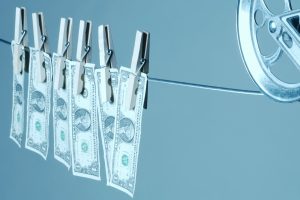 Although our Los Angeles marijuana business lawyers know this news might cause wariness among those in the pot industry, it's worth pointing out that such data is already gleaned from businesses in other industries, such as convenience stores, car dealers, liquor stores, and casinos. It may in fact by a sign that the federal government is starting (albeit at a snail's pace) to recognize the state-legal cannabis market as legitimate.
The Treasury's Office of the Comptroller of the Currency posted its notice in the Federal Register indicating that it plans to keep tabs on cannabis companies as part of its regular yearly filings required of banks. In addition to marijuana businesses, other markets of emerging interest to federal financial regulators are ATM operators and crypto asset traders. The Money Laundering Risk system used by the OCC boosts the ability of federal investigators and banks to flag and investigate potential money laundering risks.
Public comment on these proposed changes is open through early August.
We don't know exactly how information gleaned from those bank-submitted Risk Summary Forms are analyzed, but the notice indicates the data is used to help authorities better pinpoint those that "may pose heightened risk" of money laundering activities.
As of last September, it was reported there were more than 750 banks and credit unions actively serving cannabis company clients. That was an uptick of 7 percent since the previous quarter.
Within the last year, the U.S. Census Bureau also began gathering information on state government revenues generated from state-legal marijuana. Also, the U.S. Economic Classification Policy Committee issued a recommendation to include marijuana companies as an official designation within the North American Industry Classification System. This system helps the government keep tabs on market and employment information on industries throughout all of North America.
Why Money Laundering is a Concern in the Marijuana Industry
Historically, marijuana has been not only illegal, but considered incredibly dangerous. Despite the fact that many states have passed laws making cultivation, sale, and possession of the drug legal for medicinal and/or recreational uses, it remains, per federal law, a Schedule I narcotic – the classification with the tightest restrictions, indicating a powerfully-addictive substance with no medicinal value. The 2018 Farm Bill removed the sale of hemp and hemp-derived CBD products from the federal law.
Still, banks and other financial institutions are in a tight spot when it comes to accepting marijuana business clients because they're regulated by federal law. That means they must navigate federal anti-money laundering statutes – knowing full-well they're engaging in financial transactions involving proceeds generated from the sale of cannabis.
The Financial Crimes Enforcement Network has released specific guidance for financial institutions regarding the provision of services to both hemp business customers and marijuana business customers, but these are still technically in conflict with federal law. The FinCEN guidance doesn't legalize such activities, and it doesn't expressly rule out law enforcement action by federal banking regulators or criminal law enforcement agencies.
Still, following the FinCEN's guidance is important for marijuana-related businesses to ensure their compliance with the Cole Memorandum principles, as well as applicable state laws. As our Los Angeles marijuana business lawyers can explain, doing so is likely to substantially reduce the odds you're going to run up against federal enforcement action.
Guidance issued in 2014 by the U.S. Department of Justice indicated that prosecution of a financial institution under federal money-laundering laws might be appropriate if it were discovered a business to whom the institution provided banking services was violating the Cole Memo provisions, such as selling cannabis across state lines. Willful blindness to violation of state marijuana laws might also be grounds for federal prosecution of a bank, per the DOJ guidance. The DOJ puts the burden on the banks to effectively identify the nature/scope of their marijuana company customers' activities and to implement continual monitoring to ensure there are no Cole Memo violations.
Ensuring you are fully in compliance with all state laws, the Cole Memo, and other relevant provisions of law, contract with an experienced marijuana business attorney.
The Los Angeles CANNABIS LAW Group represents growers, dispensaries, ancillary companies, patients, doctors and those facing marijuana charges. Call us at 714-937-2050.
Additional Resources:
Cannabis Banking: Proceed with Caution, February 6, 2020, By James J. Black, marc-Alain Galeazzi, American Bar Association
More Blog Entries:
Feds to Return $1.1 Million in Marijuana Fund Seizures, May 14, 2022, Los Angeles Marijuana Lawyer Blog