It's a new trend, but one that perhaps should not be surprising to Californians. More and more couples are choosing to make marijuana part of their special day. From cannabis buds in fl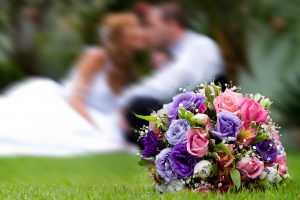 oral arrangements to marijuana favors for guests, there are many ways to incorporate marijuana into the more classical wedding traditions. The Guardian reports on one wedding that featured a "pot sommelier". Wearing a three-piece suit, the elegant professional presided over a "dab bar", and gave guests guidance on the best marijuana pairings for their palettes. The Atlantic describes another couple who chose to share a "first toke" with their guests in lieu of a more traditional first toast to the newlyweds. Still other couples commissioned specialty versions of traditional wedding products, such as a four-foot ice bong, or a "unity bowl" with two mouthpieces, upon which the couple could share a ceremonial first toke together.  
For wedding planners, caterers, florists, venue operators, and other wedding vendors, the legalization of recreational marijuana in California has created a vastly-expanded potential market of specialty services to offer their clientele. While the marijuana industry is still highly regulated, it is also very profitable. Wedding vendors can successfully execute business expansions with strategic operations, legal compliance, and other important business planning.